Document Management in Alfresco
Manage your documents professionally like our clients do
With Alfresco manage your most important digital assets
We promote efficiency, modernization and regulatory compliance of documentary and business processes;
through high performance methodologies and open platforms.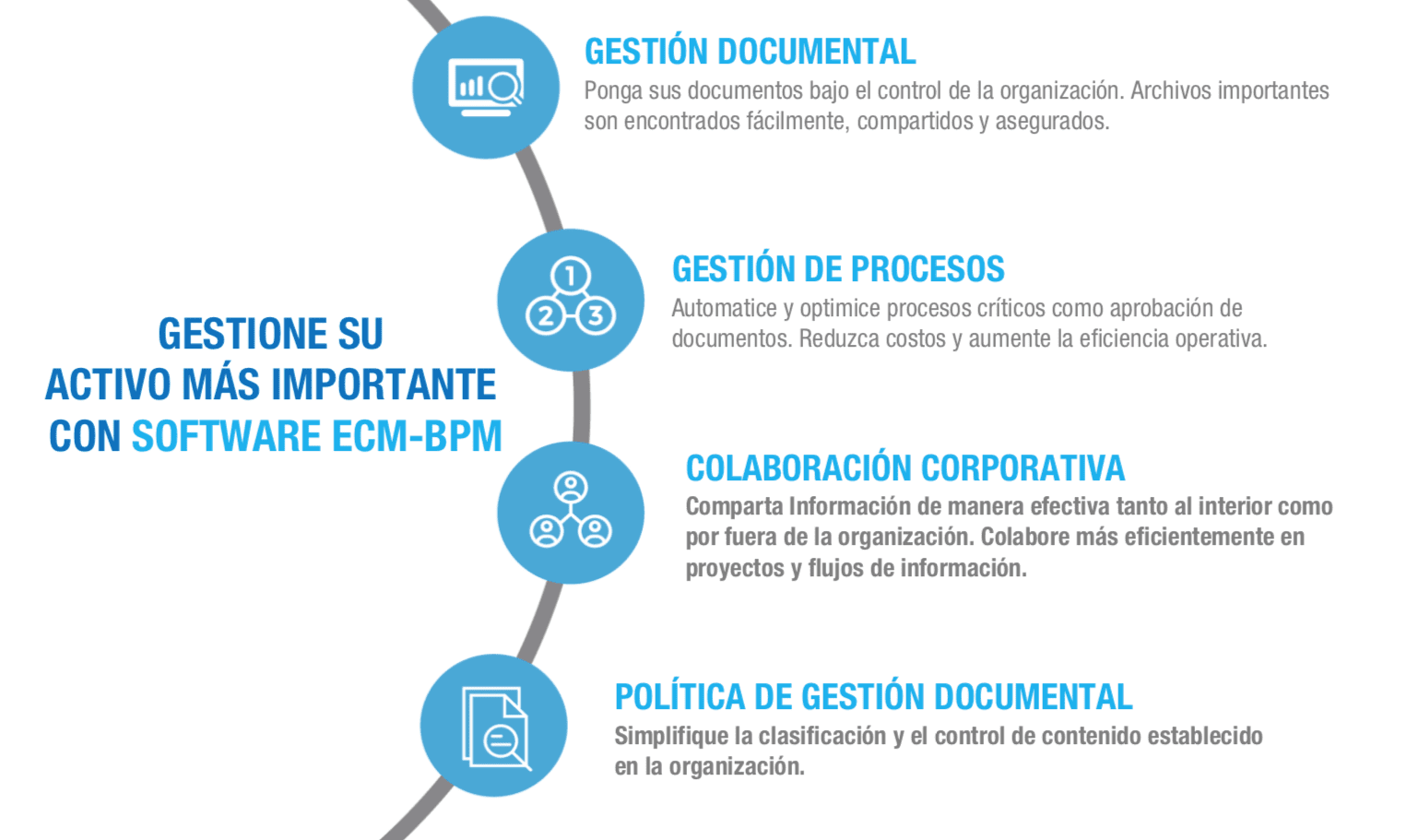 Gathering proceses information
Modeling of information flows between actors.
Document Management Software Implementation
Modeling of information flows between actors
Deployment
Training
Technological and functional support
Towards an electronic document management strategy.
Basic diagnosis of regulatory and operational compliance
Action plan for strategy implementation
Customizations tailored to your organization.
We customize the software to suit your organization so that it meets the most demanding requirements.
regulatory and operational
Alfresco for Document Management
Advanced Search Engine
Instant search with suggestions based on content, categorization and metadata of documents and folders.
Smart folders to structure information according to its characteristics and not according to how it is saved.
Integration of Content and Processes
Generic processes simplify the review and approval processes, while custom processes can structure and expedite any activity related to the documentary process.
Folder rules automate processes for repetitive tasks, freeing up time for more important tasks.
Security of Essential and Sensitive Content
Multiple layers of access – for sites, folders and files – allow you to control who can view, modify and delete documents.
Document versioning, including the option to recover previous versions immediately, simplifies the traceability and protection of information.
Simple and automatic records management allows you to strengthen and comply with the document management program.
Specialized in processes where the document is the main unit of information.
Technologies designed with international standards that help regain control of critical business content, strengthen regulatory compliance, optimize processes, and facilitate collaboration.
Investments scalable to 0 paper strategies.
There are no technology licensing costs.
They support compliance with Resolution 8934 of 2014 of the Superindustry regarding document management.
Alfresco for Corporate Collaboration
Team collaboration
Wiki pages, discussion forums, project blogs, web links, allow sharing ideas and managing knowledge among team members.
Alerts on the site dashboard let you know who modified which file and when.
Integrated processes and tasks allow the team to know the flow of document review and approval.
Empowerment among peers
Comments on content facilitates collaboration and feedback.
"Favorites" allow quick access to important content, and "likes" allow you to identify useful files.
Share Essential and Sensitive Content
Public document links allow you to eliminate the need to send emails between organizations.
Process Management in Alfresco
Integration of Contents and Processes
Metadata-based rules can be used to automatically start processes through a workflow.
Through workflow monitoring panels, productivity is increased.
Customized workflows allow you to structure and formalize the step-by-step processes of organizations.
Allows you to analyze the activity on the repository by users, types of content,
metadata for dynamic or static reports (pdf, excel, etc)
It has generic dashboards, but free analytics and custom dashboards can be generated.
Tell us about your project
We have the tools to help you achieve your goal!